About Dr. Languirand
Almost 30 years of experience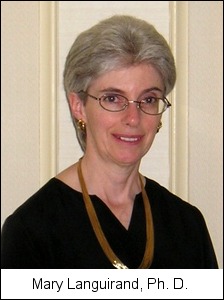 I am a licensed clinical psychologist. I earned my doctorate at the State University of New York at Buffalo in 1987 and interned at the R. H. Hutchings Psychiatric Center in Syracuse, NY. I practiced in Maryland and Pennsylvania prior to coming to NY in 2006 and opening my office in Garden City; I remain licensed to practice in NY, MD and PA. In addition to my own private practice, I have worked in psychiatric and general hospitals, outpatient treatment programs, acute rehabilitation and skilled nursing facilities, long-term care and assisted living settings, and adult day treatment programs.
I specialize in the treatment of adults who are experiencing life transitions such as relocation, career path changes, relationship and role changes, and retirement. I have had extensive experience in the psychological treatment of older adults, and those who care for and about them, including adult children of aging parents. I also help people cope with grief following a loss, and with issues related to illness and disability.
I provide some cognitive assessment services to adults, including dementia screening and documentation of progressive cognitive changes associated with age. I also offer comprehensive personality assesment for adults.
I offer pre-screening evaluations for bariatric surgery candidates, and am recognized as a specialist in this area by numerous insurers. I also provide ongoing therapy to help you adjust to the psychological and interpersonal changes that often accompany significant weight loss.
In addition to my clinical work, I have co-authored a number of books for professionals, and books that help people navigate today's complex health and mental health systems. These include books on caregiving ("When Someone You Love Needs Nursing Home, Assisted Living, or In-Home Care," which won the 2003 Caregiver Friendly award from the National Association of Caregivers), aging in place and retirement planning ("How to Age In Place: Planning for a Happy, Independent and Financially Secure Retirement," cited by Library Journal as one of the best self-help books of 2013), cognitive rehabilitation ("The Thinking Skills Workbook: A Cognitive Remediation Manual for Adults"), and coping more effectively with relationship stress and conflict ("Healthy Dependency: Leaning on Others Without Losing Yourself"). I wrote a scholarly chapter on the psychological and practical issues facing LGBTQ elderly for a professional textbook. I helped to develop the Relationship Profile Test, which has been used in a wide variety of clinical settings, and has been translated into six languages.
I've been interviewed regarding these and other topics on WebMD, ABC News, National Public Radio, Newsday, USA Today, USA Weekend, LI Business News, and Investors.com, to name a few. You can visit www.Aging-Wisely.com for more detail on my media work.
I am a member of the American Psychological Association, the New York State Psychological Association, the Society for Personality Assessment, and the International Society of the Rorschach and Projective Methods. I attend the meetings of these and other professional associations regularly to stay up to date regarding the most current findings and advances in my field.